Highland Spit Roasts
Sizzling Roasts for Every Occasion

Indoors and Out
Our mobile roasting service provides a new style of indoor and outdoor catering.


Charming Experienced Staff
We operate our own roasting machines – supplying both fuel and carcass, together with experienced staff to carve and serve.



No Mess
The machines are perfectly safe, creating no smoke or mess.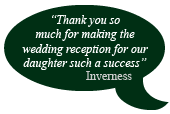 Scrummy
The sight of a succulent turning roast is an attraction at any function.

Clients:
Crown Prince Frederick of Denmark
Monarch of the Glen, Molly's birthday party
Fingask Castle
Gleneagles Hotel
Kinkell Byre
Harburn House

For further information on a sizzling feast of any size contact: Martin & Jenny Robb on 01764 670377 or email: robb@carroglen.com

Crackling is our Speciality!